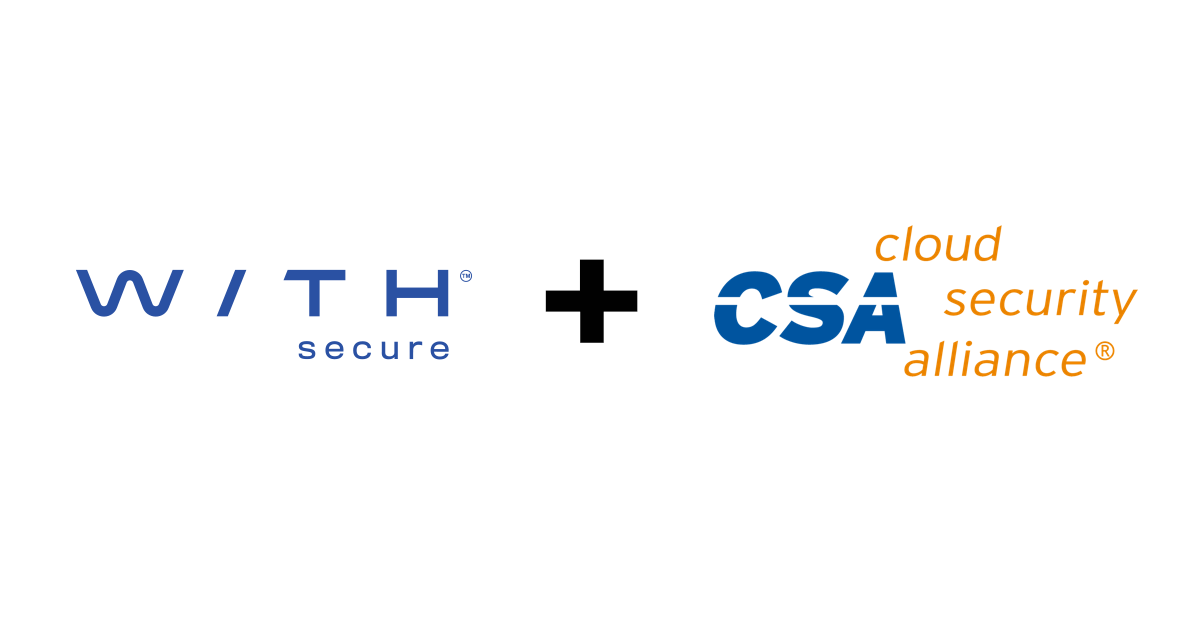 Helsinki, Finland – September 6, 2022: WithSecure™, formerly known as F-Secure Business, has joined the Cloud Security Alliance (CSA) to help define and raise awareness of best practices that can help ensure a secure cloud computing environment.
Thanks to cloud computing's flexibility, efficiency, and other benefits, more and more companies are relying on it for their IT needs. A recent Nash Squared survey* found that 90% of digital leaders have some kind of cloud implementation – up from 69% in 2020.
However, companies migrating various processes and assets to the cloud are facing new, sometimes unexpected risks. These include increased complexity, the widespread consolidation of business around a few key cloud service providers, understanding the shared-responsibility security model utilized by many cloud services, and more.
According to WithSecure™ Chief Technology Officer Christine Bejerasco, joining the CSA gives WithSecure™ an opportunity to work with more organizations on the importance of security as they move to the cloud.
"CSA builds WithSecure's position in the frontlines of cloud security and strengthens our future capabilities to help clients and partners secure cloud environments," said Bejerasco. "Furthermore, working with the CSA allows us to join forces with other security-minded providers of cloud services and collectively raise the bar for security on software-as-a-service, infrastructure-as-a-service, and platform-as-a-service offerings. It also offers the opportunity for joint research which amplifies our reach to educate users on the advantages and challenges in the cloud that they need to be aware of."
"We're pleased to welcome WithSecure to the Cloud Security Alliance," said Jim Reavis, co-founder and CEO, Cloud Security Alliance. "WithSecure's extensive work supporting organizations as they move to the cloud gives them valuable experience to share with stakeholders as they tackle different cloud security challenges. We look forward to collaborating on how we can ensure the cloud is a safe, productive environment for people and organizations."
More information on how WithSecure™ can support organizations' journey to the cloud is available at https://www.withsecure.com/en/security-outcomes/accelerate-your-cloud-journey-with-confidence.
*Source: https://www.nashsquared.com/post/growth-in-global-tech-threatened-as-skills-crisis-reaches-all-time-high-finds-worlds-largest-digital-leadership-survey.
About WithSecure™
WithSecure™, formerly F-Secure Business, is cyber security's reliable partner. IT service providers, MSSPs and businesses – along with the largest financial institutions, manufacturers, and thousands of the world's most advanced communications and technology providers – trust us for outcome-based cyber security that protects and enables their operations.
Our AI-driven protection secures endpoints and cloud collaboration, and our intelligent detection and response are powered by experts who identify business risks by proactively hunting for threats and confronting live attacks. Our consultants partner with enterprises and tech challengers to build resilience through evidence-based security advice. With more than 30 years of experience in building technology that meets business objectives, we've built our portfolio to grow with our partners through flexible commercial models.
WithSecure™ Corporation was founded in 1988, and is listed on NASDAQ OMX Helsinki Ltd.