WithSecure™ Elements Mobile Protection
Proteggi il tuo business in movimento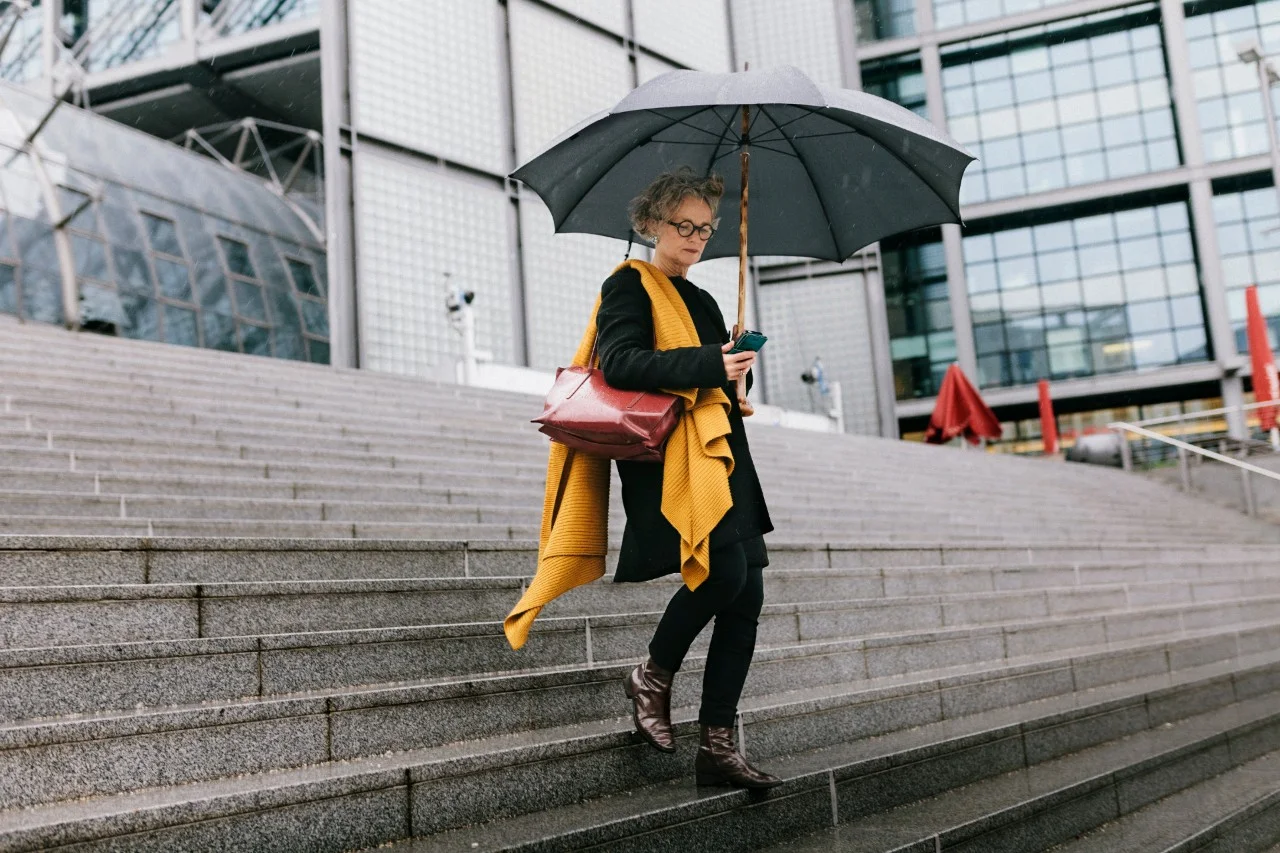 Non lasciare che un dispositivo mobile sia il tuo anello debole.
Il confine tra dispositivo di lavoro e dispositivo personale è oggi molto labile. Usiamo i nostri dispositivi mobili per svolgere le operazioni aziendali quotidiane e per questioni personali.
I dispositivi mobili, inoltre, sono continuamente connessi ad internet, il che li rende un allettante vettore di attacco per i criminali informatici.
WithSecure™ (ex F-Secure) Elements Mobile Protection è una soluzione di protezione completa, proattiva e snella per i tuoi dispositivi mobili. Combatti i tentativi di phishing provenienti da varie app social, evita che i tuoi dipendenti accedano a siti web pericolosi, blocca il malware e tieni al sicuro i dati business-critical anche quando sfrutti connessioni di rete non sicure.
WithSecure™ Elements Endpoint Protection è un modulo di Elements, la piattaforma basata su cloud che fornisce una protezione efficace contro ransomware e attacchi avanzati. Elements riunisce gestione della vulnerabilità, gestione automatizzata delle patch, l'intelligence dinamica delle minacce e l'analisi comportamentale continua. Utilizza le soluzioni singole per esigenze specifiche oppure massimizza le tue difese combinandole tutte insieme. 
Tip:
Utilizza le soluzioni singole per esigenze specifiche oppure ottieni una protezione completa combinandole tutte insieme. Scopri WithSecure™ Elements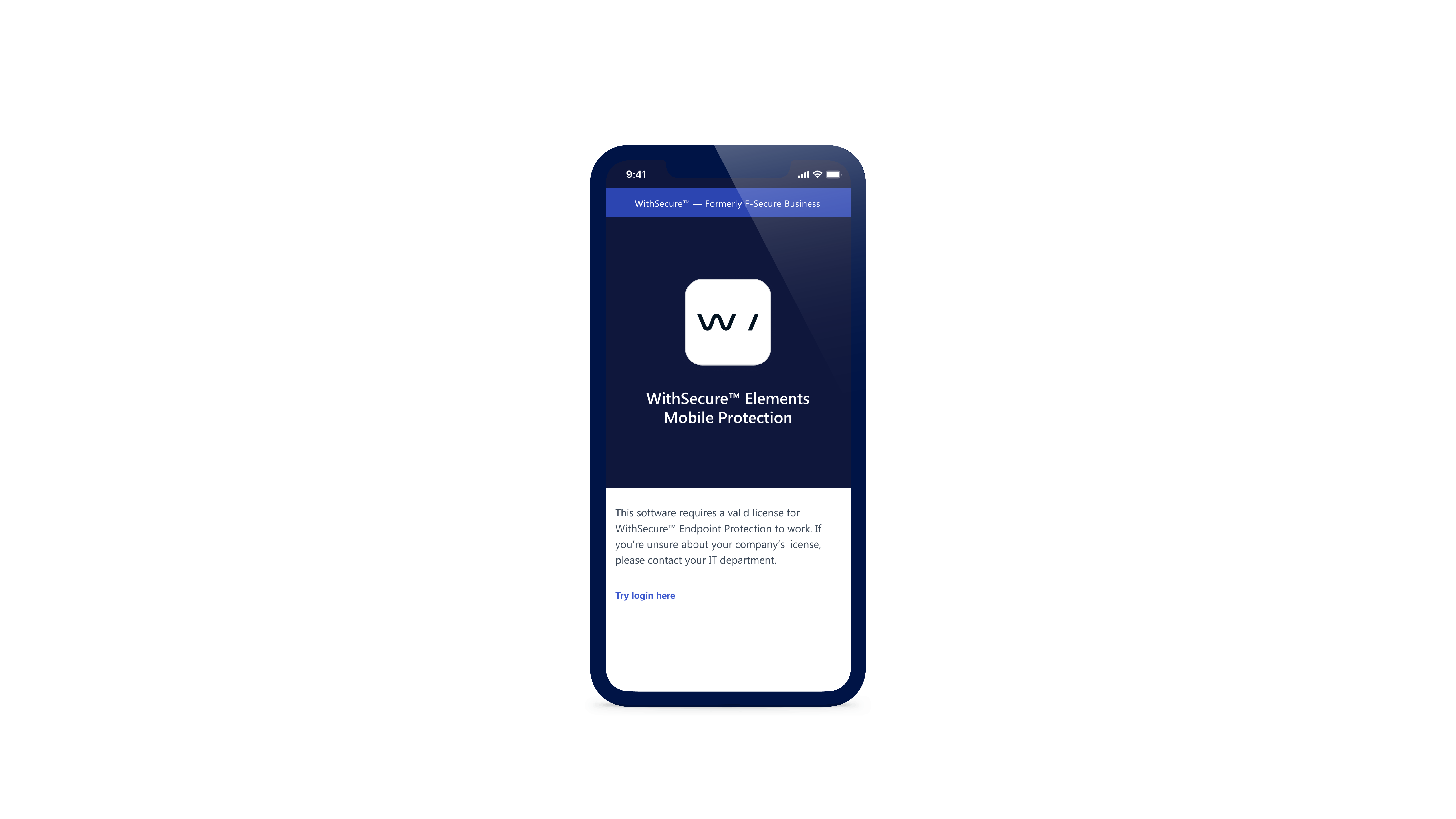 Piattaforme supportate
WithSecure™ Elements Mobile Protection:
iOS 12.1 e successivi
Android 7.0 (Nougat) e successivi
WithSecure™ Elements Mobile Protection Lite:*
Android 7.0 (Nougat) e successivi
*Non include la funzione Mobile VPN
Disponibilità
Disponibile in tutto il mondo. La funzione VPN mobile non è disponibile in Afghanistan, Bahrain, Bielorussia, Burundi, Repubblica Centrafricana, Cina, Crimea, Cuba, Repubblica Democratica del Congo, Egitto, Guinea (Conakry), Guinea-Bissau, Iran, Iraq, Giordania, Kuwait, Libano, Libia, Maldive, Mali, Myanmar/Birmania, Corea del Nord, Oman, Qatar, Russia, Arabia Saudita, Somalia, Sudan del Sud, Siria, Tunisia, Turchia, Ucraina, Emirati Arabi Uniti, Venezuela, Yemen e Zimbabwe.
Perché WithSecure™ Elements Mobile Protection?
1
Protezione dalle moderne minacce ai dispositivi mobili
Impedisce ai dipendenti di accedere a siti web pericolosi e di eseguire applicazioni rischiose grazie a threat intelligence in tempo reale e analisi di sicurezza.
2
Applicazione completamente nuova
La nostra nuova applicazione supporta iOS, iPadOS e Android.
Tutte le operazioni ad alta intensità di risorse sono state spostate nel cloud, alleggerendo i tuoi dispositivi e aumentandone la durata della batteria.
3
Meno complessità
Implementazione fluida e gestione semplificata tramite WithSecure Elements Security Center o la soluzione MDM. Gestisci deployment e impostazioni di sicurezza con piena visibilità e controllo.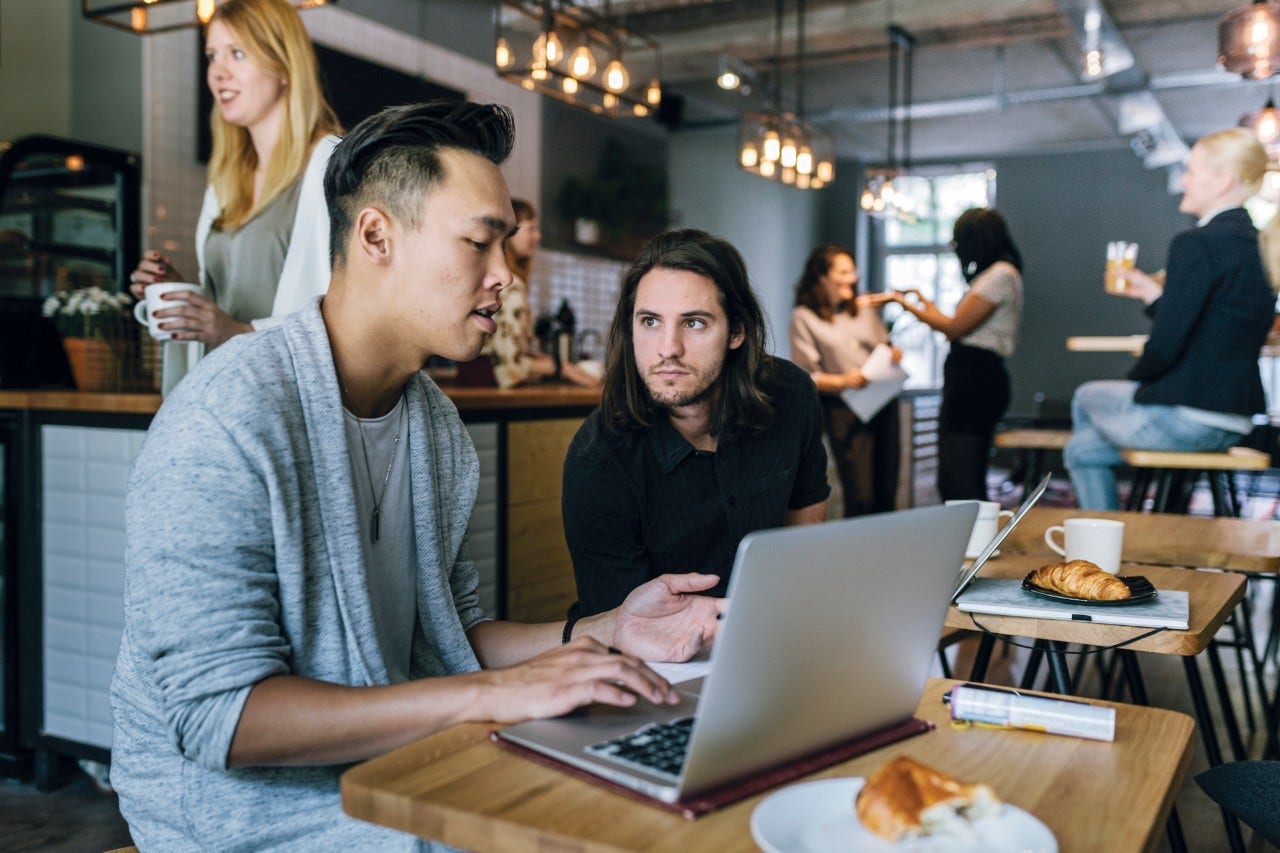 Protezione mobile completa dai principali vettori di attacco
Con WithSecure™ Elements Mobile Protection, puoi bloccare gli attacchi da tutti i principali vettori di attacco mobili, compresi phishing, malware e tracciamento delle informazioni.
Rete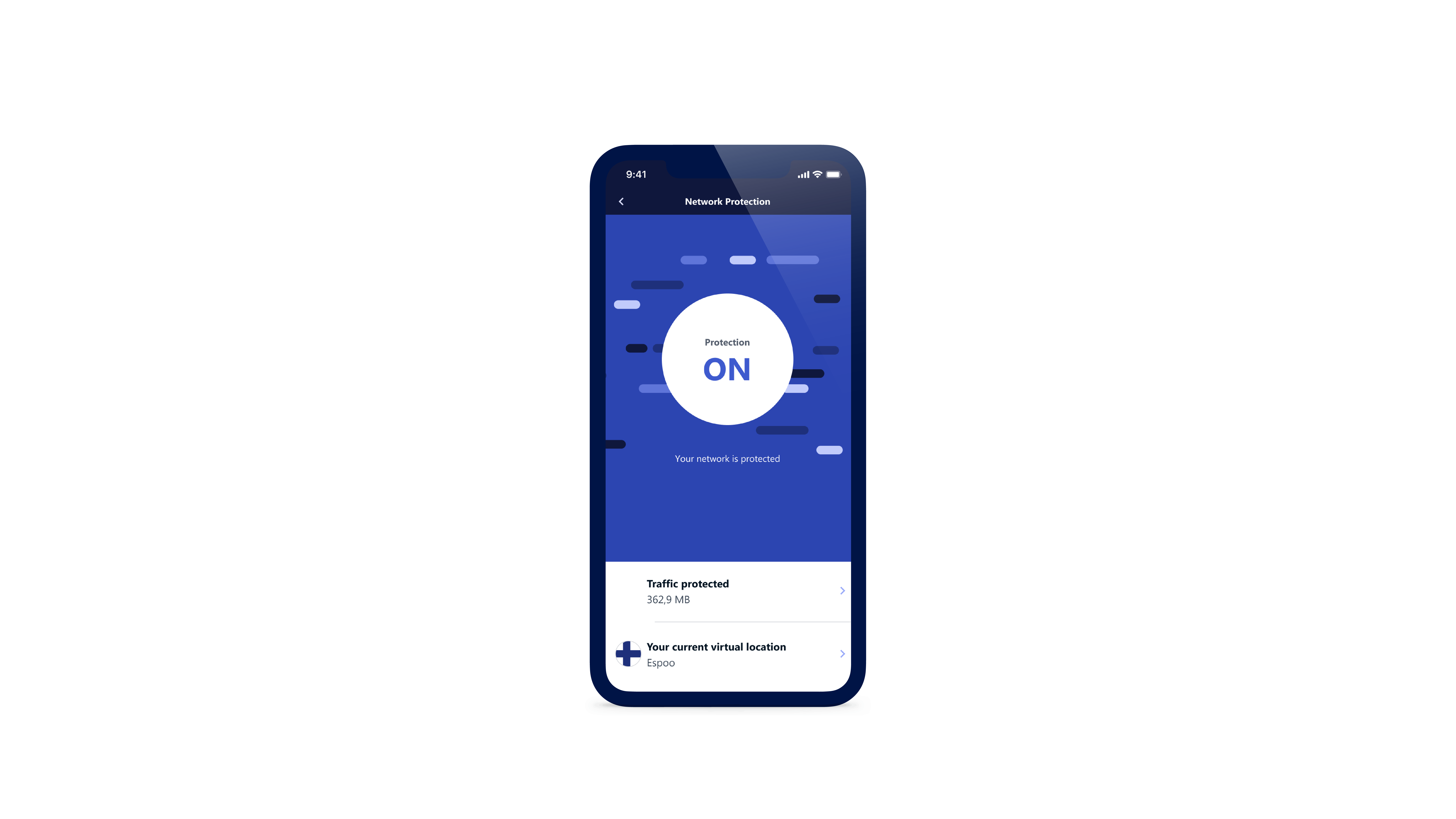 Protezione della rete
La VPN mobile cripta automaticamente il traffico da e verso il tuo dispositivo mobile, permettendoti di usare in sicurezza il Wi-Fi pubblico e le reti mobili.
Impedisce l'intercettazione di email e sessioni del browser, e l'uso di servizi online da parte di attaccanti, oltre a fornire un ulteriore livello di sicurezza per le connessioni HTTPS.

Previene gli attacchi Man-in-the-Middle su reti Wi-Fi aperte.
Navigazione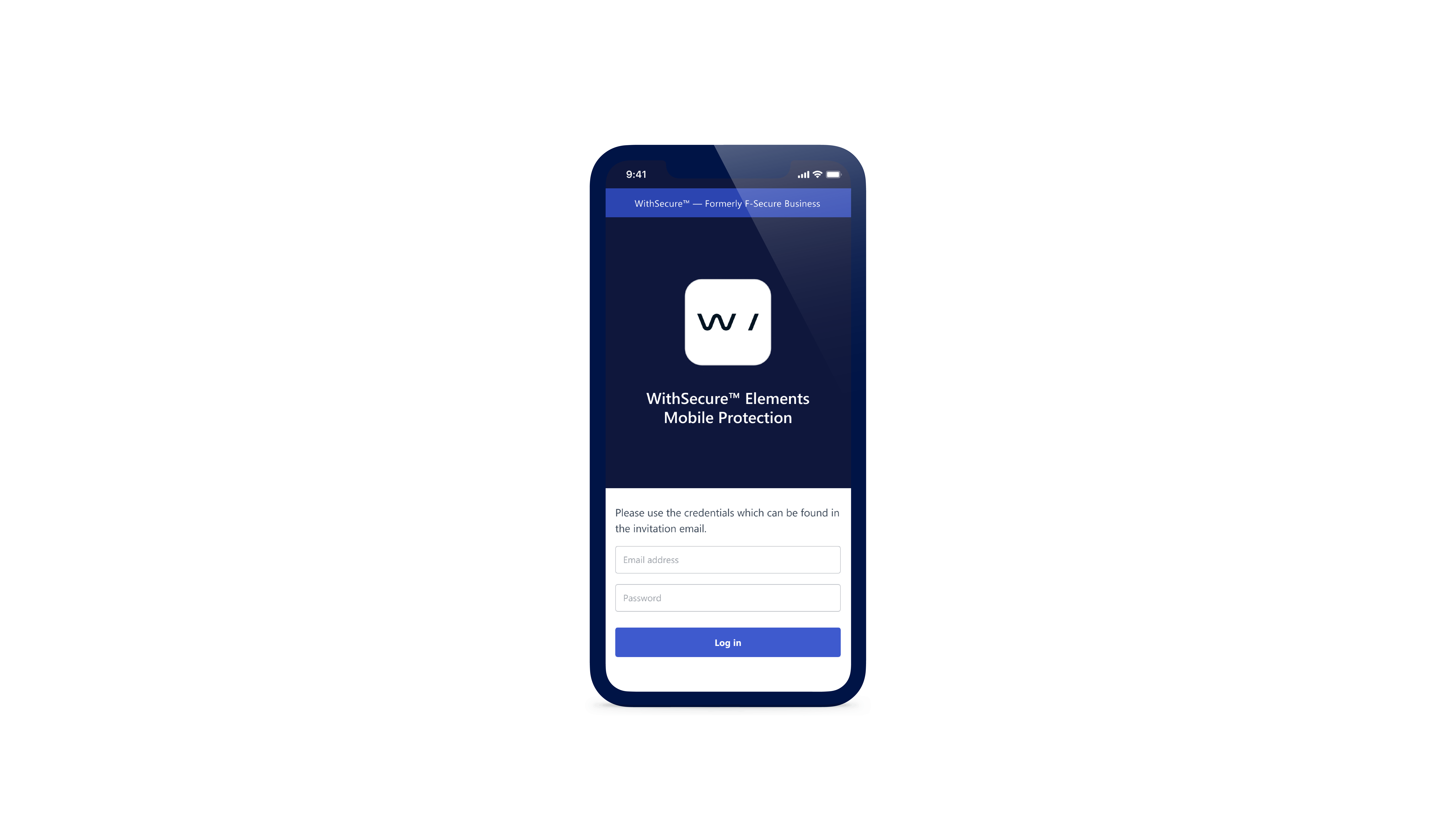 Protezione della navigazione
Browsing Protection è un livello di sicurezza fondamentale che impedisce proattivamente agli utenti finali di visitare siti di phishing e malevoli. Questo intervento tempestivo riduce notevolmente l'esposizione complessiva a contenuti pericolosi e quindi agli attacchi.
Browsing Protection è completamente agnostica al browser, in quanto lavora a livello di rete. Questo garantisce la protezione anche se l'utente finale non sta usando i browser approvati dall'azienda.
Protegge gli utenti finali che con l'inganno accedono a siti di phishing apparentemente reali, a siti pericolosi tramite link in email o subiscono infezioni tramite inserzioni pericolose di terze parti su siti altrimenti legittimi.
La funzionalità sfrutta la threat intelligence in tempo reale e recupera gli ultimi controlli sulla reputazione dei siti web e dei loro file da WithSecure Security Cloud, in base a vari dati come indirizzi IP, parole chiave negli URL e comportamento del sito.
Virus e minacce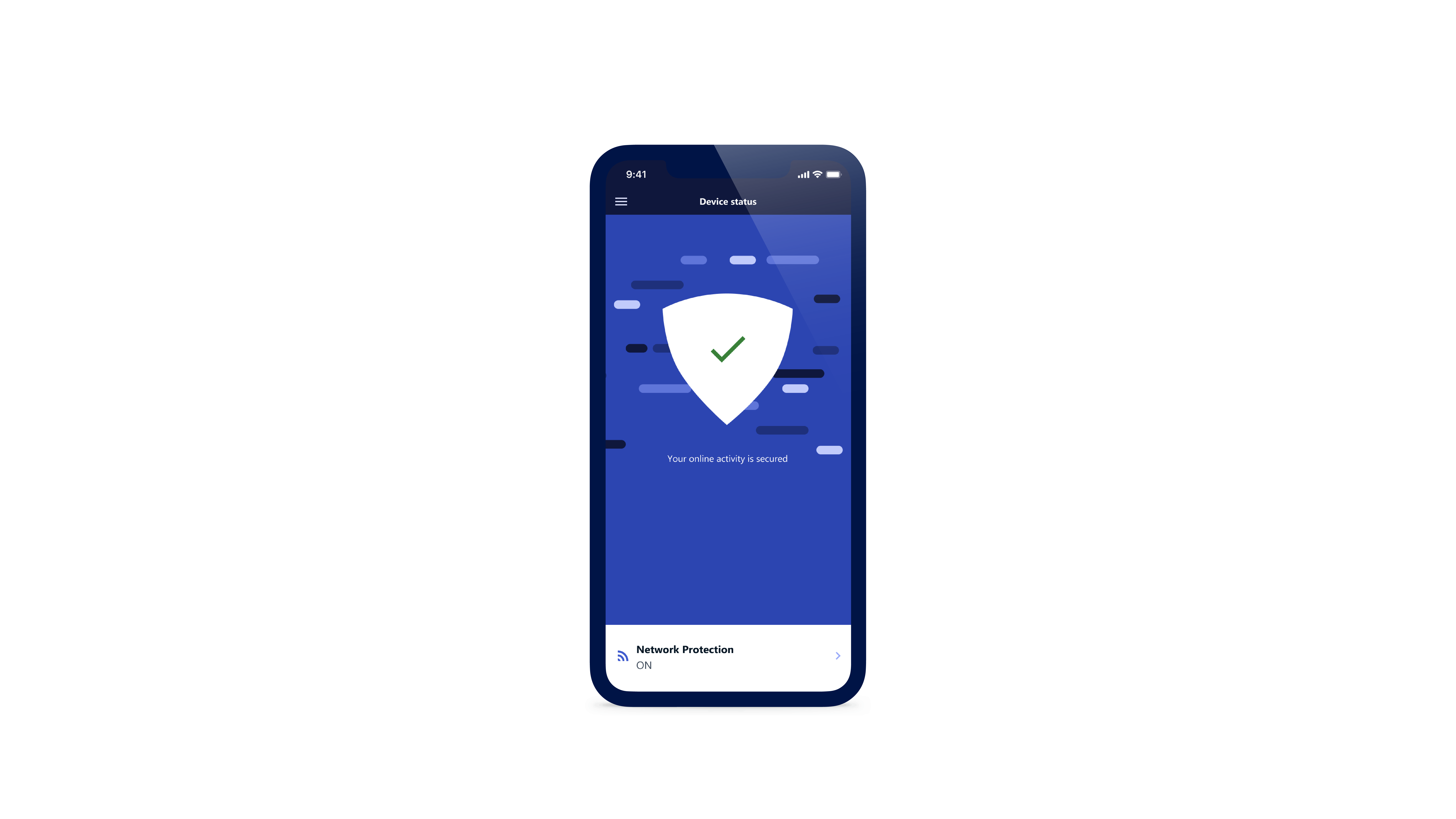 Protezione da virus e minacce
Quando usi la nostra connessione VPN, i dispositivi mobili sono automaticamente protetti da malware e contenuti malevoli. Il nostro nodo di servizio scansiona il traffico a livello di rete, utilizzando tutti i nostri strumenti di analisi di sicurezza. Questo ci permette di fornire una protezione migliore rispetto alle tradizionali soluzioni di sicurezza mobile perché:
Il livello di sicurezza non è ostacolato dalle risorse limitate dei dispositivi mobili
Le operazioni ad alta intensità di risorse vengono elaborate nel cloud
La scansione a livello di rete impedisce il contatto con contenuti malevoli
App e file sono scansionati con threat intelligence in tempo reale e analisi di sicurezza
Posizioni virtuali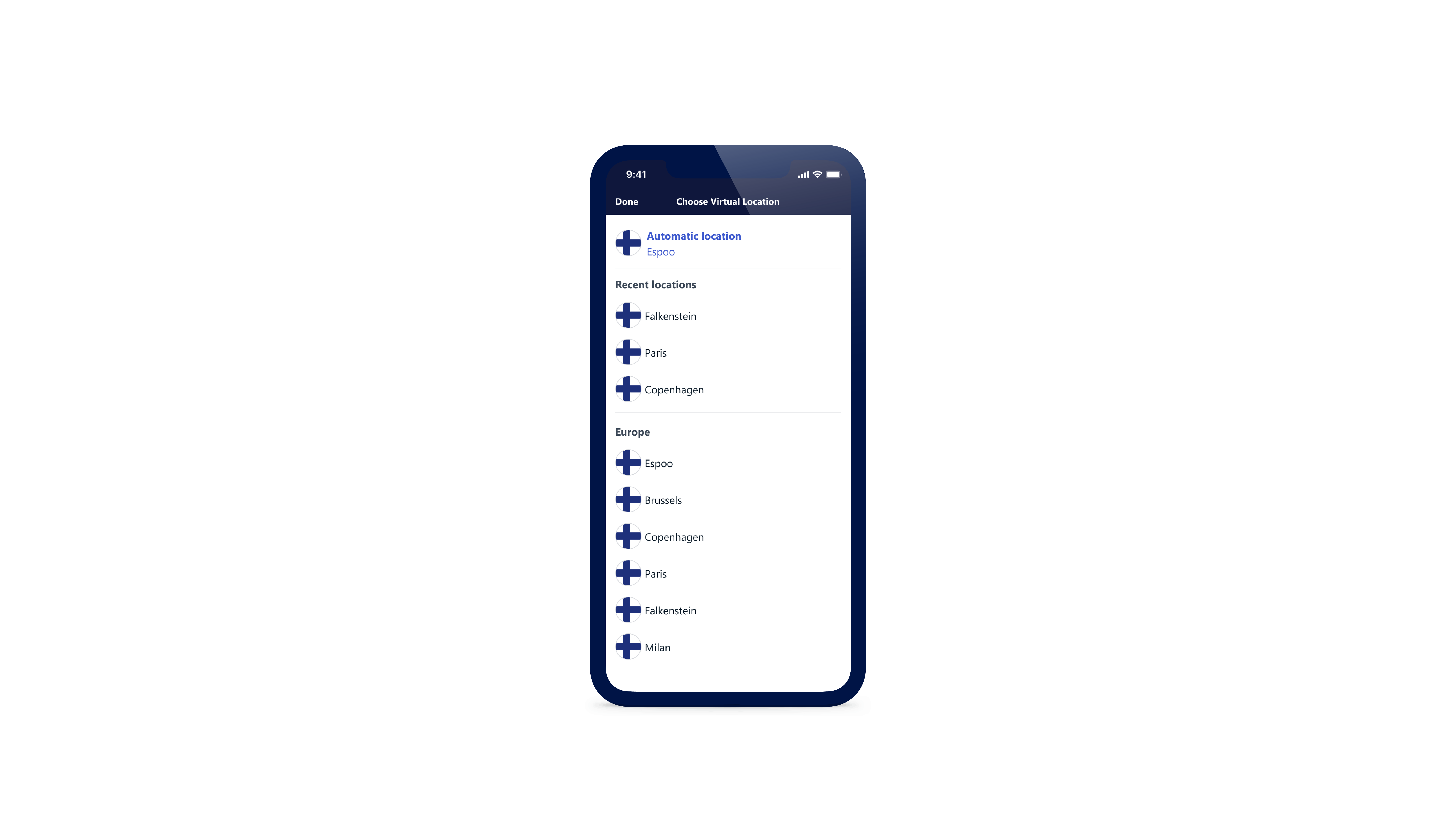 Posizioni virtuali
La VPN mobile ti permette di cambiare la tua posizione virtuale, nascondere il tuo indirizzo IP e accedere ai servizi locali quando sei all'estero.
Potrai scegliere l'ubicazione del server da una lista di 16 Paesi. Alcuni Paesi hanno anche diverse posizioni tra cui scegliere. In genere, una località più vicina ti darà prestazioni migliori rispetto a gateway dall'altra parte del mondo.
Gestione semplificata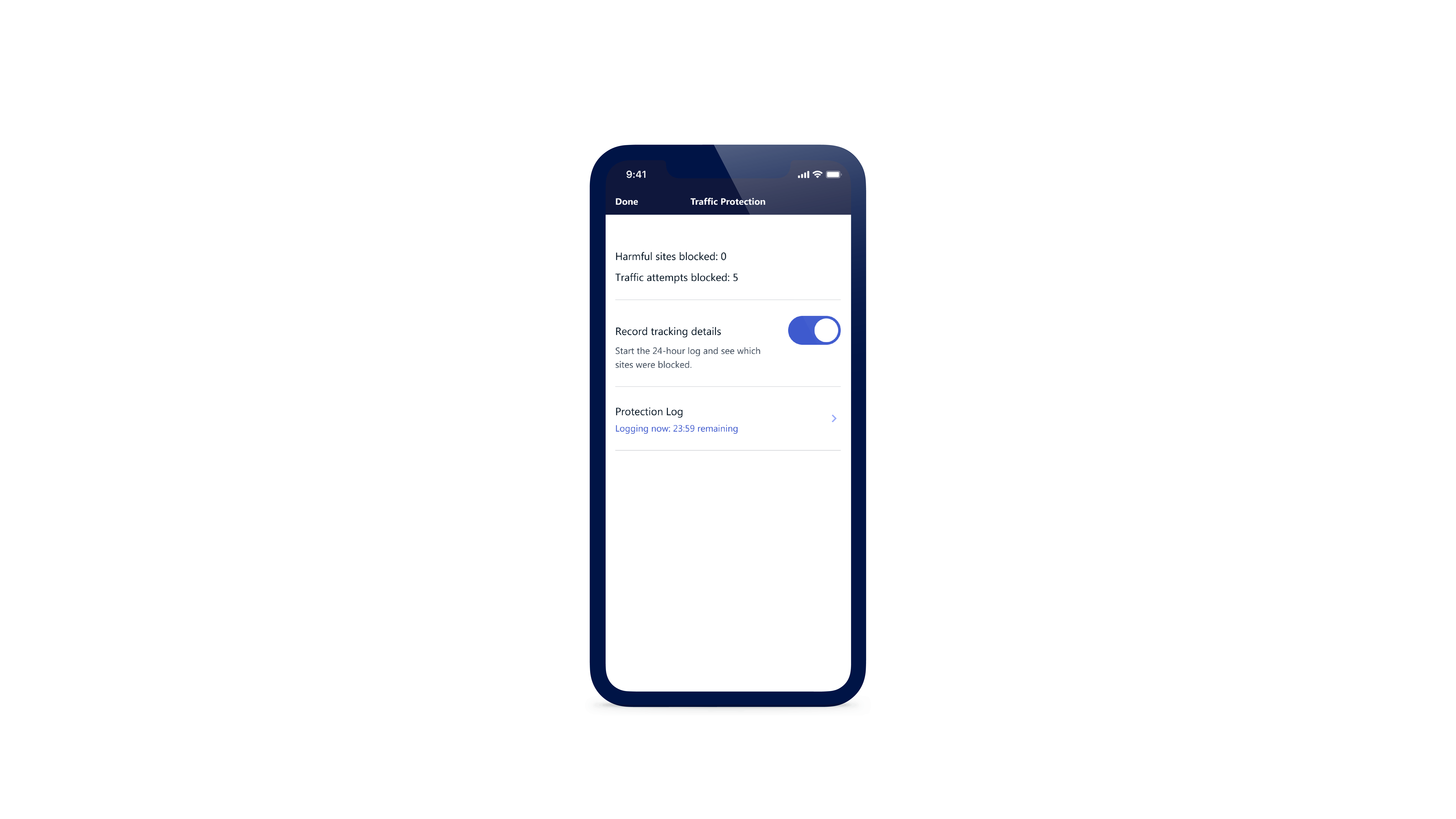 Gestione semplificata
La nostra soluzione è leggera ed estremamente semplice da gestire nel cloud. Visibilità e controllo completi sulle impostazioni di sicurezza, parità di profilo tra iOS e Android e visibilità durante il deployment significano nessuna seccatura.
Gli inviti inviati sono visibili fino al completamento dell'installazione
Il posto nell'abbonamento viene occupato solo dopo l'installazione (non quando l'email viene inviata come FFB)
Il link dell'email è univoco e consente una sola installazione durante i successivi 30 giorni
L'interfaccia utente ti permette di reinviare facilmente un invito, o inviarne uno nuovo con un altro link dopo la sua scadenza.
Metodi di deployment flessibili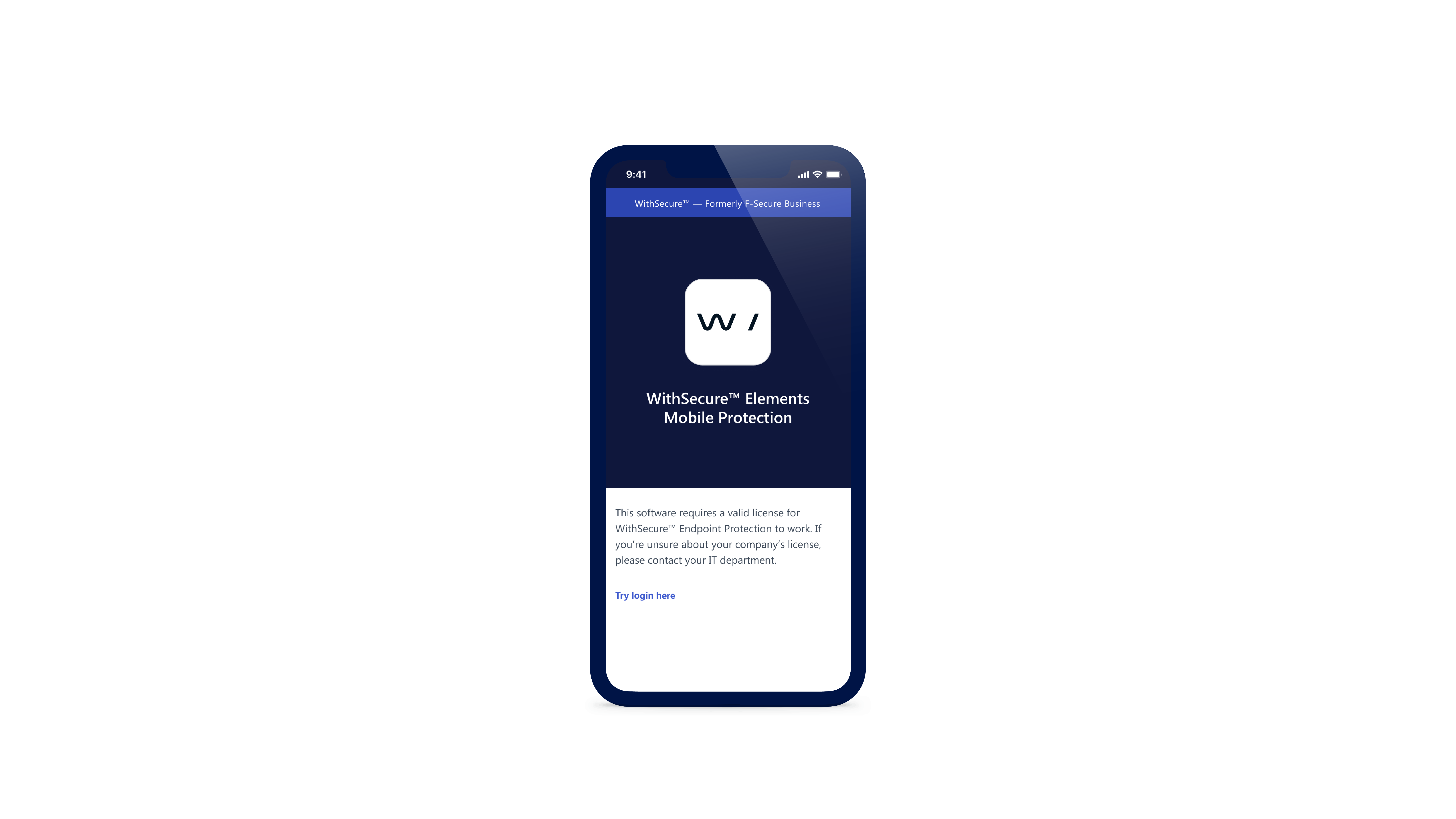 Metodi di deployment flessibili
WithSecure™ Elements Mobile Protection si integra con tutte le soluzioni MDM più diffuse per la gestione di altre policy, per esempio versione minima del sistema operativo e crittografia del dispositivo. Puoi scegliere di implementare Mobile Protection tramite WithSecure™ Elements Security Center o tramite la tua soluzione MDM.
Soluzioni MDM supportate:
AirWatch

IBM MaaS360
Google MDM
Microsoft Device Manager
Miradore
MobileIron
Cerchi supporto per il prodotto?
Trova qui gli ultimi articoli, le istruzioni e altri utili materiali di supporto.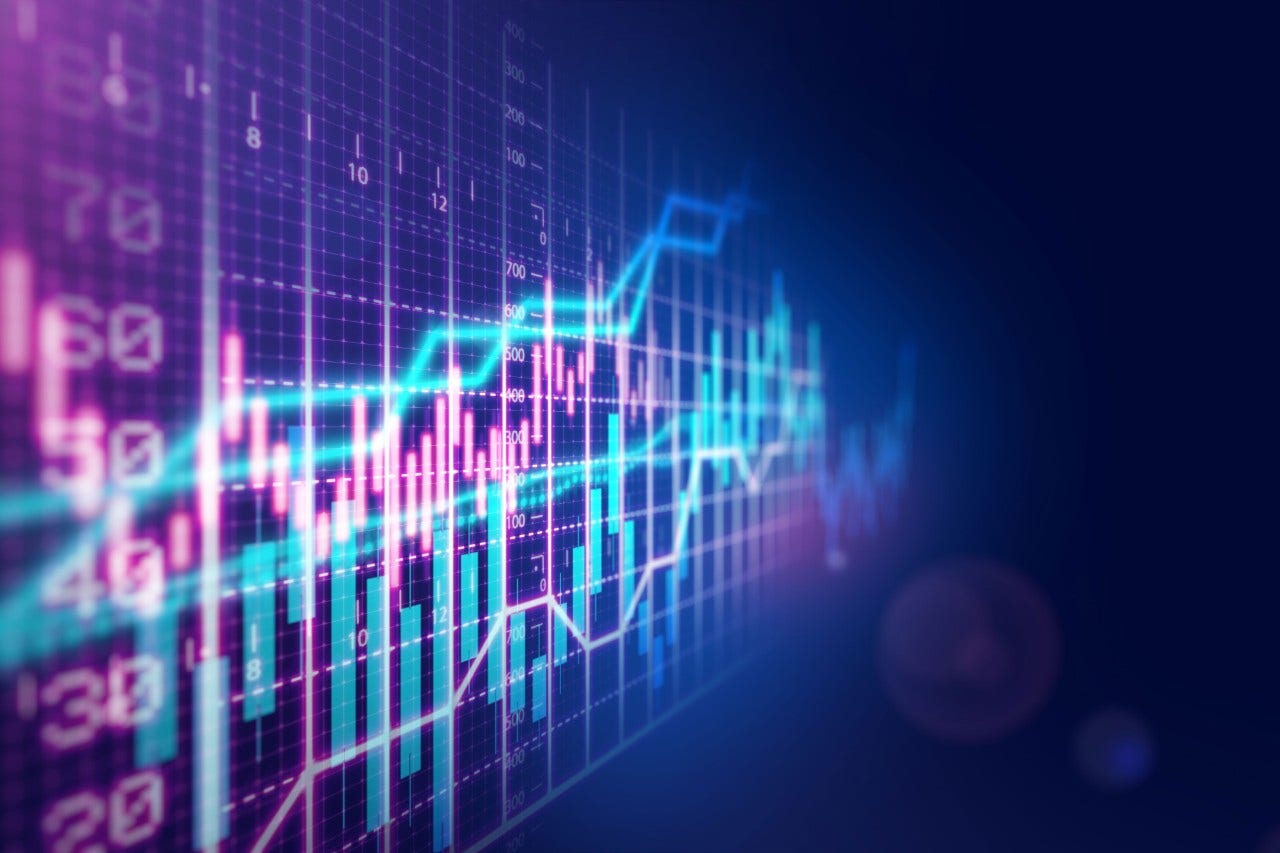 Vincitore del premio Best Endpoint Security agli SC Awards Europe 2021
WithSecure™ (ex F-Secure) ha vinto il premio Best Endpoint Security agli SC Awards Europe 2021 per Elements Endpoint Protection nel giugno 2021.
1
Inizia la prova gratuita di 30 giorni
Compila il modulo e riceverai un'email che richiede i dettagli necessari per iniziare il periodo di prova gratuita. Potrai attivarla in pochi minuti e vedere subito WithSecure™ Elements in azione.
2
Ti contatteremo
Ti contatteremo dopo qualche giorno per assicurarci che tutto sia andato per il meglio e per aiutarti in caso di dubbi o domande.
3
Migliora la tua sicurezza con un partner dedicato
Ti aiuteremo a trovare il partner giusto per trarre i massimi benefici da WithSecure™ Elements.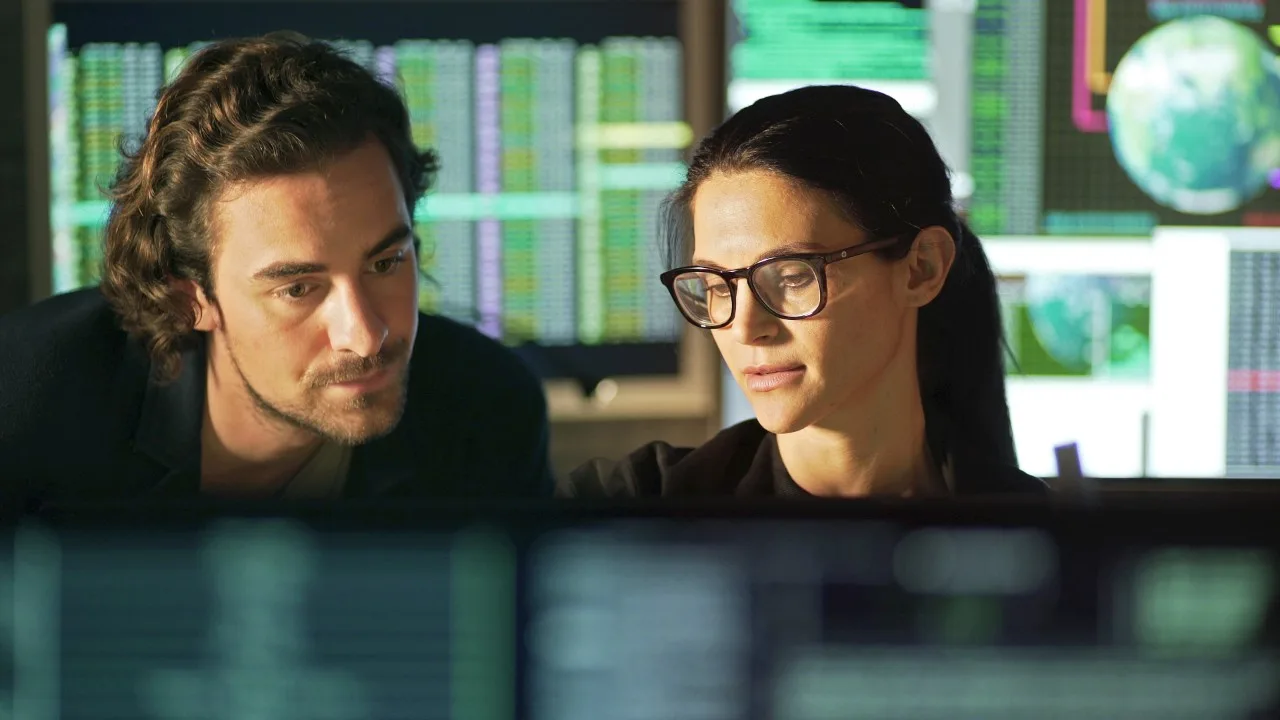 Rafforza la tua sicurezza con un partner esperto in sicurezza informatica.
Per una difesa efficace hai bisogno di automazione, ma anche di competenza umana. Puoi acquistare Elements come servizio in abbonamento completamente gestito da uno dei nostri partner certificati: un'intera squadra di esperti di sicurezza informatica sarà sempre al tuo fianco.
Inizia la prova gratuita
Prova gratuita di 30 giorni
Prova WithSecure™ Elements per 30 giorni. Inizieremo con i due pluripremiati componenti principali di Elements: Endpoint Protection & Endpoint Detection and Response.
Sicurezza per workstation Windows, Mac e Linux all'avanguardia con protezione da malware, trojan e backdoor

Ottieni visibilità immediata sul tuo ambiente IT e rileva attacchi informatici e problematiche in pochi minuti

Rispondi alle minacce con automazione e linee guida o ottieni assistenza da WithSecure™ sui rilevamenti di minacce più complessi.
Contatta il team commerciale
Vuoi approfondire l'argomento?
Compila il modulo e ti contatteremo al più presto possibile.
Parte di WithSecure™ Elements
Puoi usare WithSecure™ Elements Mobile Protection da solo o come parte della piattaforma di sicurezza informatica WithSecure™ Elements. Questa piattaforma completa basata su cloud offre gestione delle vulnerabilità, protezione degli endpoint, endpoint detection and response e protezione del cloud di Microsoft 365, il tutto gestito attraverso un unico centro di sicurezza per snellire le operazioni quotidiane e permetterti di concentrarti meglio sul tuo business. Sostituisci la complessità con la semplicità.