WithSecure™ Elements – Partner Success Services
Grow your cyber security business by becoming a trusted WithSecure™ advisor.
As a WithSecure™ partner, you get access to a full suite of services that can help your business bloom.
With WithSecure™ Elements, our modular cyber security platform, you can deliver the right products, insights, and services to your customers. Protecting your customers' digital assets and handling their cybersecurity allows them to concentrate on their core business – safe in the knowledge that you've got them covered.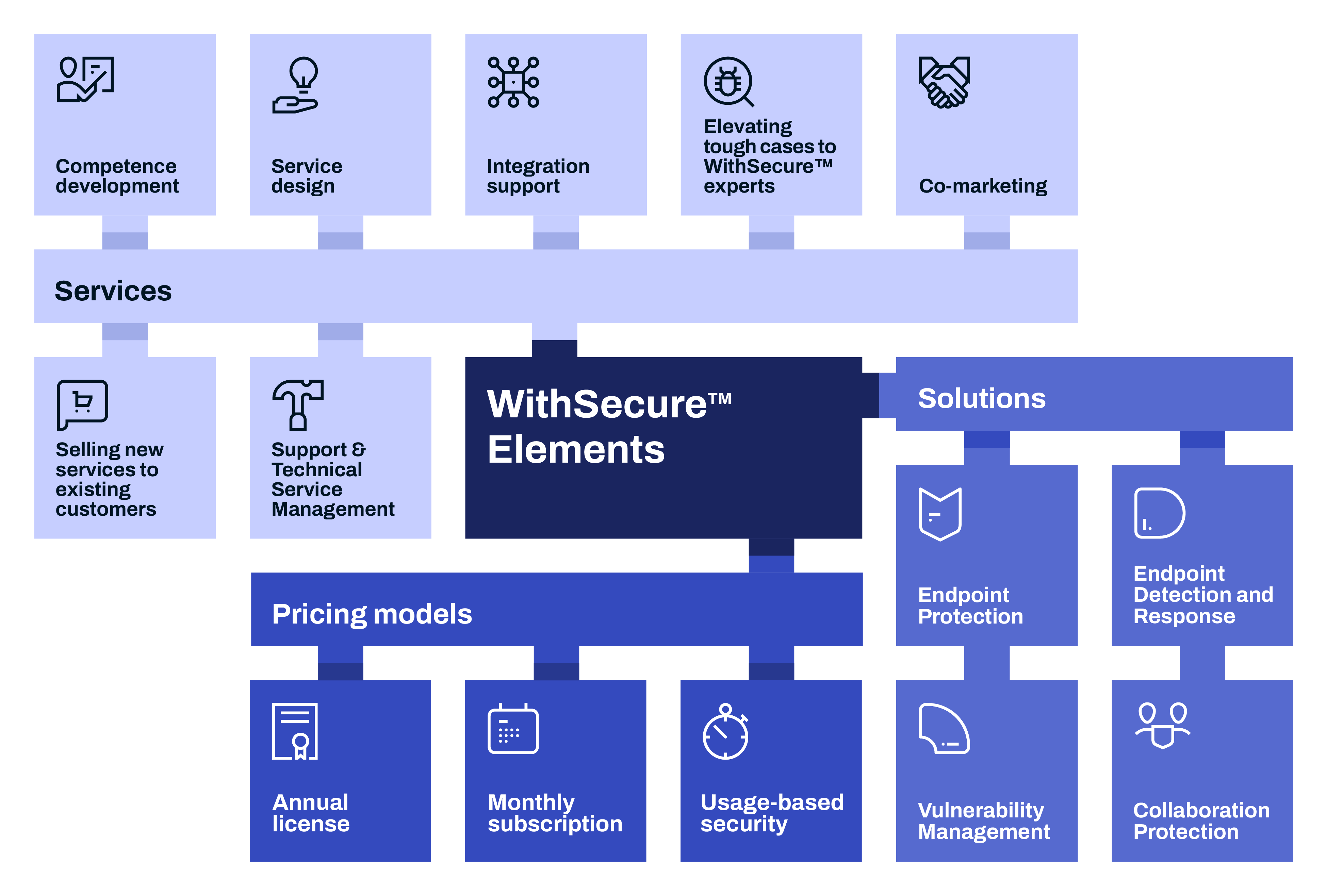 Service Elements
Service design
Let's build you a cyber security service offering. Together.
Outsourcing part or all of its cyber security to a managed service provider (MSP) or managed security service provider (MSSP) gives organizations access to broad, relevant, and practical security expertise  - in a fast and affordable manner.
By building a cyber security service offering with us, you can:
Meet clear and immediate customer demand and respond to the growing threat landscape.
Differentiate yourself and be a trusted, value-adding partner who helps your customers stay safe.
Scale your services and increase profitability.
We can help you thrive with the technology, business models and services you need. A cloud-based, multi-tenant cyber security platform allows you to operate and scale efficiently. Together, we can build the right service offering to fit on top, using decades of knowledge gathered from real-world experience.
Competence development
Build your team's skills and knowledge with our comprehensive training programs – from technical deep-dives to marketing online training.
Boost your ability to effectively market WithSecure™ solutions, gain valuable insights into B2B customer security needs, and explain how WithSecure™ products solve these issues.
Understand our full portfolio offering and the competitive landscape.
Learn how to successfully sell each WithSecure™ product.
Gain a clear picture of how to administer and provide support for each WithSecure™ product.
You'll also have access to expert-level paid onsite or classroom training around topics such as security architecture, forensics and incident response, security assessment, phishing and behavioral science, as well as the current threat landscape.
WithSecure™ Elevate
24/7 expert threat investigation and response guidance at the touch of a button.
The sooner you catch an attack the better. However, the situation can sometimes be too tricky to handle on your own. When that happens, rest assure that you are never alone. WithSecure™ Elements Endpoint Detection and Response is bolstered by our built-in WithSecure™ Elevate service. This gives you elite threat hunter investigation and response guidance – normally reserved for the most demanding of enterprises – as a 24/7 pay-as-you-go service. Hardened by years of experience of facing real-world cyber attacks our experts will help you conquer any kind of attack.
Technical Service Management
Technical expert advocates for you at WithSecure™.
Keeping up with the ever-changing cyber security landscape and your full technology repertoire can be a lot to handle. WithSecure™ Technical Service Manager (TSM) is your company's dedicated advocate, co-securing your business through close dialogue and collaboration. Your TSM acts as your main point of contact for technical matters and saves you time by proactively looking after support cases, guiding solution decisions, and assisting in projects, deployments, and configurations. Your TSM keeps you updated with the latest product information and makes sure your voice gets heard by our key stakeholders all the way to R&D. Your open support cases are prioritized, and concerns are addressed without delay. 
Support services
With 24/7 support, our partners are never alone.
We offer you a wide array of technical support tools and materials to help solve any technical difficulties. When self-help tools and resources aren't enough, you can contact WithSecure™ Customer Care. Our technical specialists are on hand to quickly solve any issues that may arise, letting you get back to business as soon as possible. Premium support gives you 24/7 priority access to our technical experts. They know our technologies inside out, meaning they can grasp the characteristics of your unique infrastructure.
Integration support
Connect your security and commercial data to third-party systems.
We provide you with integration capabilities for cyber security and commercial third-party solutions – and help set them up. You can easily connect security data with your third-party SIEM, SOAR, security management, monitoring or reporting systems. We also offer a Commercial API that lets you sell WithSecure™ Elements through your own e-commerce and manage orders through your CRM or ERP platform of choice.
Co-marketing
Strive towards marketing-driven business growth.
We enable your marketing activities through assets, training, support, and resources that drive awareness and generate demand. Joint marketing plans, flexible marketing funds and shared sales and marketing activity costs will take your cyber security business to new heights. The right marketing materials attract, engage, and inform potential customers. As a WithSecure™ partner, you'll gain access to a library of effective sales and marketing assets, allowing for an easier go-to-market process and faster sales. From brochures and customer case studies to whitepapers and guides, ready-made marketing campaigns are easy to access in a single content management platform in our Partner Portal. We'll provide you with marketing tools that support co-branding, digital marketing, and content syndication.
AI cross-sell support
Efficiently sell new solutions to your existing customers.
Get the best business results by identifying AI-based sales opportunities among your existing customer base. Our sales professionals will help you to identify the most valuable opportunities, serve your customers better, create new business and, crucially, retain your existing customers. Using this- approach, we can work together to create long-term customer value, ensure high satisfaction, and solidify customer retention.
What can you achieve?
Expand your business
Build your cyber security offering with us and leverage our decades of industry know-how.
Co-secure your customers with us
Respond to market demand and real customer needs.
Boost your business growth
Create demand with end-to-end co-marketing campaigns and sales materials.
Want to talk in more detail?
Complete the form, and we'll be in touch as soon as possible.