Skanna och hantera sårbarheter i ditt nätverk
Få en riskbaserad vy över hela din attackyta – från ditt nätverk till programvara till webbappar – så att du kan hitta, prioritera och åtgärda kända, okända och potentiella sårbarheter innan de exploateras.
WithSecure™ Elements Vulnerability Management är en molnbaserad sårbarhetsskanner som är enkel att använda och som täcker ditt nätverk, dina tillgångar, deep web och efterlevnad av regelverk. Verktyget rapporterar automatiskt aktiviteter som varumärkesintrång, tredjepartsbedrägeri och nätfiskesajter. Managera WithSecure™ Elements sårbarhetshantering i molnet eller använd den som en helt outsourcead tjänst från en av våra certifierade partners.
WithSecure™ Elements sårbarhetshantering är en modul i Elements cybersäkerhetsplattform. Den molnbaserade plattformen ger ett effektivt skydd mot utpressningstrojaner och avancerade attacker. Elements sammanför sårbarhetshantering, automatiserad patchhantering, dynamisk hotinformation och kontinuerlig beteendeanalys. 
Tips:
Använd enskilda lösningar för specifika behov eller få ett komplett skydd genom att kombinera dem alla. Kontrollera WithSecure™ Elements
Varför WithSecure™ Elements Vulnerability Management?
1
Skanna deep web
Web crawling-teknik som täcker ditt eget nätverk, tillgångar och deep web.
2
Bekämpa varumärkesbedrägerier
Automatiska hotbedömningsrapporter om aktiviteter som varumärkesintrång eller nätfiskebedrägerier.
3
Minska kostnaderna
Högautomatiserad och körs i molnet, så du slipper tråkig manuell spårning.
WithSecure™ (tidigare F-Secure) har fått utmärkelsen 2020 Gartner Peer Insights Customers' Choice for Vulnerability Assessment.
GARTNER PEER INSIGHTS CUSTOMERS' CHOICE-märket är ett varu- och servicemärke som tillhör Gartner, Inc. och/eller dess dotterbolag och används häri med tillstånd. Alla rättigheter förbehålles. Gartner Peer Insights Customers' Choice utgör subjektiva åsikter från individuella slutanvändarrecensioner, betyg och data som tillämpas mot en dokumenterad metodik. De representerar varken Gartners eller dess dotterbolags åsikter eller utgör en bekräftelse.
En kraftfull lösning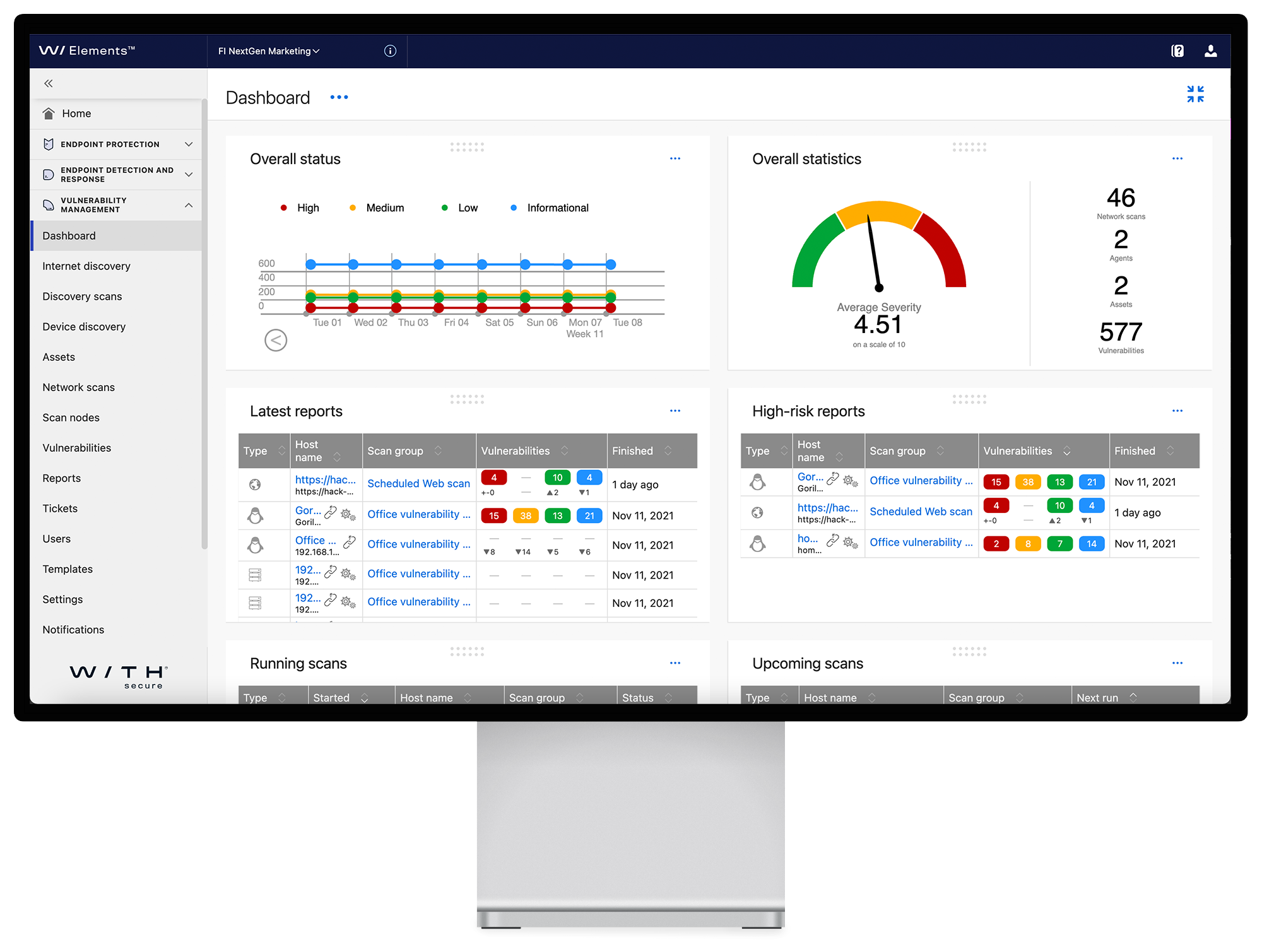 Vulnerability Management dashboard är en konsol som övervakar den aktuella statusen för sårbarheter och händelser
Vulnerability Management endpoint agent är ett Windows-program som automatiskt samlar in data från alla dina klienter
Internet asset discovery skannar Internet (inklusive deep web) för att hitta systemen i din organisation som är anslutna till Internet
Discovery scans upptäcker alla värdar och nätverksenheter i din infrastruktur
Vulnerability scans skannar systemet efter kända sårbarheter som ransomware eller annan skadlig programvara
Vulnerability Management centralt genom en enda konsol med automatisk detektering och rapportering
PCI DSS-efterlevnadskrav uppfylls av WithSecure™ Elements Vulnerability Management, vilket minskar risken för dataförlust
Letar du efter produktsupport?
Här hittar du de senaste artiklarna, anvisningar och annat viktigt supportmaterial.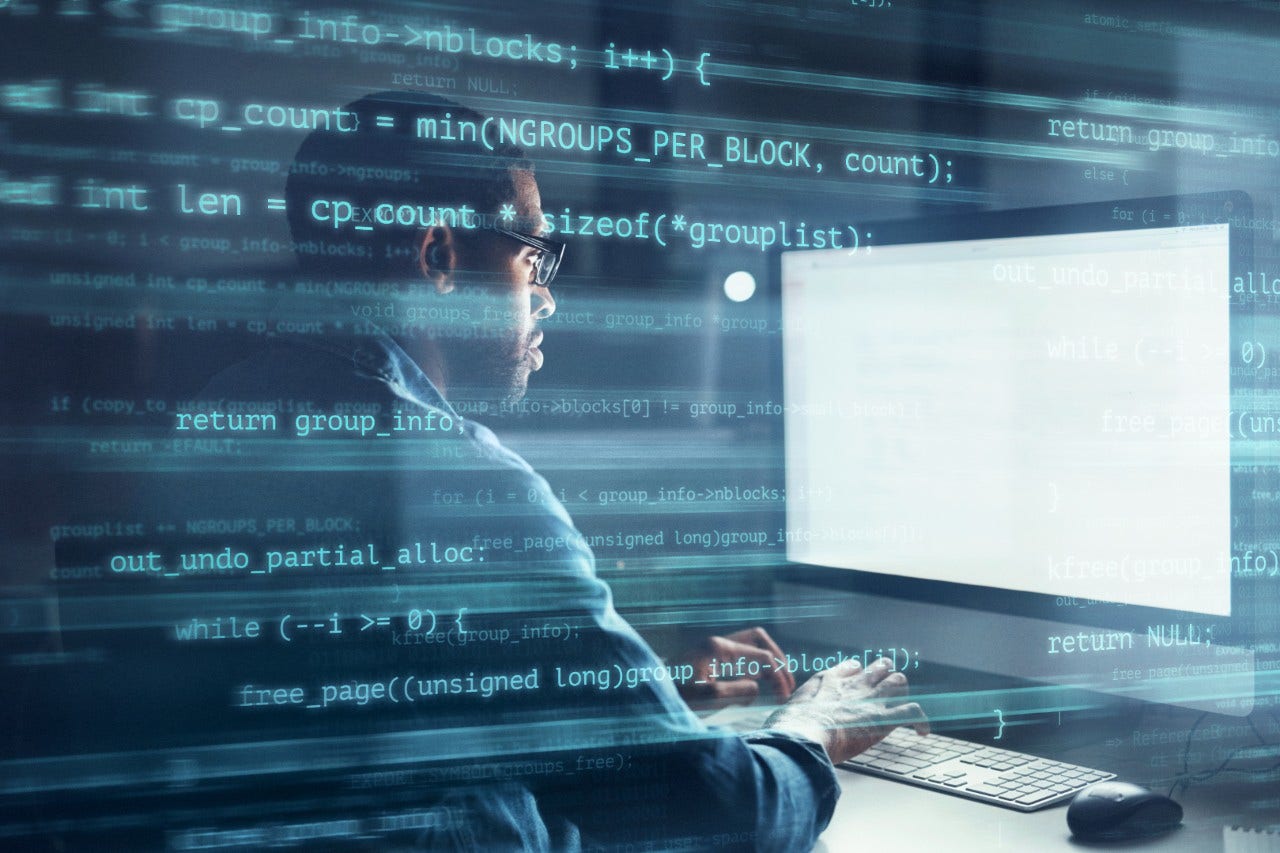 Din guide till sårbarhetshantering
Det tar i genomsnitt 15 dagar att utnyttja en sårbarhet Icke-patchad och dåligt konfigurerad programvara är en nyckel för attackvektorer och möjliggör intrång, särskilt när det gäller mer avancerade attacker. Du kan stärka din företagskontinuitet genom effektiv sårbarhetshantering.
Case Study: Móveis Itatiaia
Kitchen manufacturer needed a more efficient security system for the security of remote workers, and protection for the company's legacy machines.
Läs mer
Case Study: Aubay Italia S.p.A.
Aubay Italia protects its remote workforce and customer data by securing company endpoints and virtual servers with WithSecure™ Elements Endpoint Protection and WithSecure™ Elements Vulnerability Management.
Läs mer
Case Study: Solita
Finnish digital business consultancy accelerates their business and ensures their customers' business continuity with WithSecure™  Elements Vulnerability Management in the backbone of their services.
Läs mer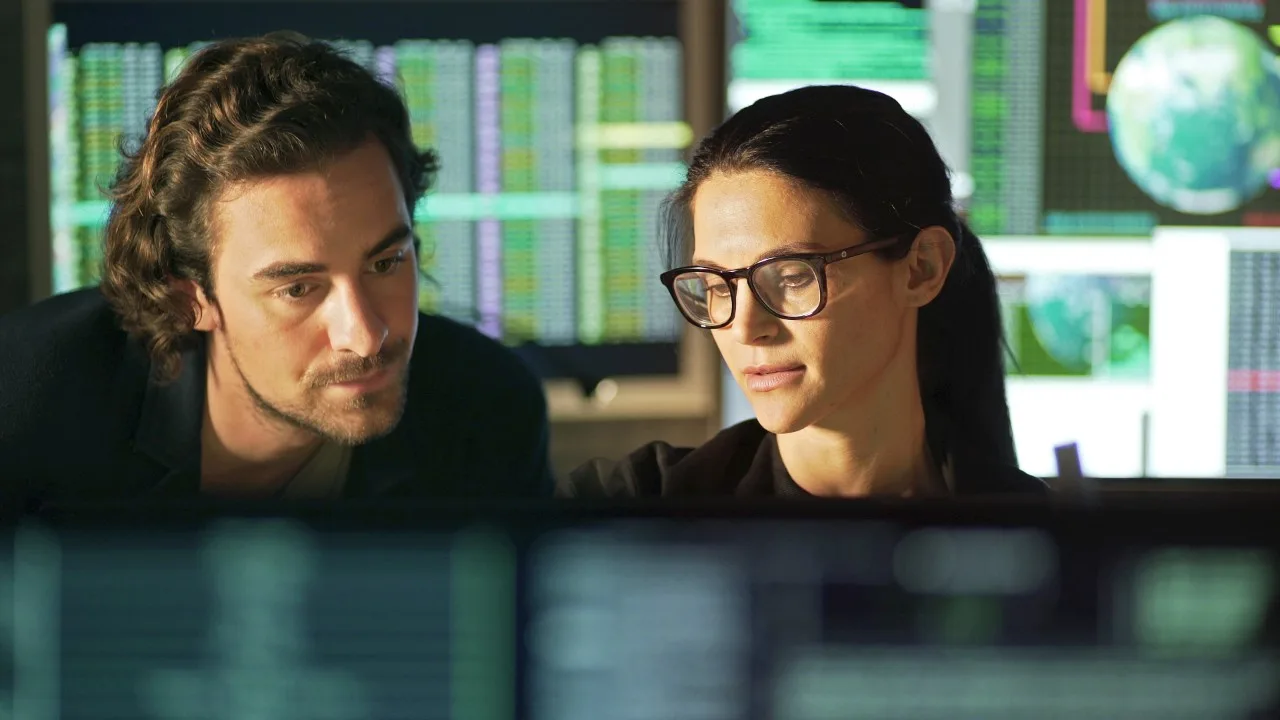 Öka din säkerhet med en erfaren cybersäkerhetspartner
För ett starkt försvar behöver du automatisering, men du behöver också mänsklig expertis. Du kan köpa Elements som en fullt managerad prenumerationstjänst från en av våra certifierade partners, vilket innebär att ett helt team av cybersäkerhetsexperter i världsklass alltid står bakom dig.
1
Börja med den kostnadsfria 30‑dagars provperioden
Fyll i formuläret så får du ett e-postmeddelande med en förfrågan om de uppgifter vi behöver för att starta din provperiod. Starta din kostnadsfria provperiod på några minuter och se hur WithSecure™ Elements fungerar i praktiken.
2
Vi hör av oss
Vi kommer att kontakta dig inom några dagar för att se till att du har haft en smidig start och för att hjälpa till med eventuella frågor eller funderingar.
3
Öka din säkerhet med en dedikerad partner
Vi hjälper dig att hitta rätt partner som hjälper dig att få ut det mesta av WithSecure™ Vulnerability Management.
Få en gratis demo
Få en demo
WithSecure™ Elements Vulnerability Management identifierar var organisationens tillgångar är sårbara, så att du kan minimera angreppsytan för att minska risken.
Exponera sårbarheter inom skugg-IT och minska din attackyta drastiskt.

Förhindra attacker genom felkonfigurationer av programvara i tjänster, operativsystem och nätverksenheter.

Identifiera saknade säkerhetspatchar och föråldrad programvara genom systemskanning.
Fyll i formuläret så kontaktar en av våra dedikerade säkerhetsexperter dig för att ordna en demonstration av lösningen.
Kontaktförsäljning
Vill du prata mer i detalj?
Fyll i formuläret så kontaktar vi dig så snart som möjligt.
En del av WithSecure™ Elements
Du kan använda WithSecure™ Vulnerability Management ensam eller som en del av cybersäkerhetsplattformen WithSecure™ Elements. Den här fullständiga molnbaserade plattformen omfattar sårbarhetshantering, skydd av slutpunkter, upptäckt och svar av slutpunkter och Microsoft 365 molnskydd - allt hanteras via ett enda säkerhetscenter för att effektivisera den dagliga verksamheten och låta dig fokusera på det som är viktigt. Ersätt komplexitet med enkelhet.